Powder coating from Artistic Iron Works Las Vegas is a great way to protect your wrought iron. Choose from hundreds of colors and an amazing selection of textures for a sturdy alternative to paint that adds a new dimension to doors, gates, rims, dune buggies, and custom-fabricated metalworks designed by, and for, you.
Car, Truck & Motorcycle Parts
Bike, Dune Buggy & ATV Parts
Custom Signs & Logos
What Is Powder Coating?

Powder coating is a protective layer that is applied as a free-flowing, dry powder. It is typically applied electrostatically and is then cured under heat to allow it to flow and form a rugged and resilient "skin".
The Type Of Powder Coating Matters
The powder may be a thermoplastic or a thermoset polymer. It is usually used to create a hard finish on metals that is tougher than conventional paint. Each type has different uses, and we can help you decide which is right for you.
Powder Coating Vs. Liquid Paint
The main difference between a conventional liquid paint and a powder coating is that the powder coating does not require a solvent to keep the binder and filler parts in a liquid suspension form. Because powder coating does not have a liquid carrier, it can produce thicker coatings than paint without running or sagging.
Rich Color That Lasts
Several colors can be applied before curing them all together, allowing color blending and special effects in a single layer. Powder-coated products resist scratching and won't peel or flake. With annual waxing, its color can remain rich and full for decades
A Finish That Feels As Great As It Looks
Our powder coaters can give your iron products a great look with a great feel too. We offer veined, wrinkled, river or rock textures and a whole lot more. This texture can really bring life to your wrought iron by adding a new visual dimension.
Durable & Versatile
Powder coat is used on many different types of materials. Think about its durability when used on car and truck bumpers, rims, and frames. It is an extremely durable finish that will last for years to come with proper care.
We Coat Your Wrought Iron Onsite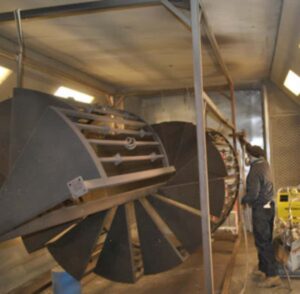 Don't be misled by companies that disparage powder coating and its application processes. Usually, the deciding factor for iron companies that paint instead of powder coat comes down to cost. If a company does not have its own powder coating capabilities, there are resulting additional costs that are passed to the consumer.
Loading the product for transport (labor).
Shipping to the powder coating company (labor and fuel).
Unloading at the powder coating company (labor).
Being at the mercy of the company's schedule (diminished efficiency).
Picking up and delivering to the job site (labor and fuel).
As long as the prep process is done correctly either process will work and last with upkeep being done regularly on liquid-painted surfaces.
Corrosion Resistance In A Single-Pass
In order to achieve sufficient thickness to provide the necessary corrosion resistance, most liquid paints must be applied in two passes. Electrostatic spray powder coatings from 1 to 6 millimeters thick can be applied in one pass. This eliminates the need for two coating booths.
Save Money On Your Metal Finishing
Powder coatings are cost-competitive with liquid paint. In fact, many powder coatings cost less than equivalent coatings formed from liquid paint. Less maintenance is required with powder coating, so it can also save you money there.
Our Endless Custom Options Are Unlimited
Combine Artistic Iron's ability to plasma cut custom designs with our powder coat options, and you end up with the ultimate custom accessory for your gate, door or whatever your imagination can come up with.
We Can Recover Powder To Save The Environment
Continuous recovery of over-sprayed powder is key to the economical production of powder coatings. Powder recovery systems can reclaim up to 98 percent of overspray for reuse. In contrast, liquid paint overspray is lost and cannot be reclaimed. The deposition efficiency of liquid paint spray systems ranges from 30 to 90 percent, and seldom averages more than 65 percent.
Does powder coat flake, peel or crack?
Only if not properly prepared.
Is application done in multiple passes?
Unless it has 2 colors or a clear coat going on after the initial application, multiple passes are not needed.
Are metal edges and corners coated properly?
All painting (at least should be) and powder coat are applied with an electro static gun. Which means the material paint or powder is drawn in by a negative charge and thus it has a wrapping effect on the material when being applied.
Can I skip the pre-treatment?
If pre-treatment is not done correctly, your finish will not hold up to basic weather wear and tear.
Isn't powder coating too thick or too thin?
As the powder is applied it has a recommended coverage mill thickness that is tested to assure that it is being properly applied. Paint also has a recommended coverage mill thickness that must be followed.
What about curing issues?
Any professional powder coat company will be set up with a digital monitoring system, which includes digital timers and a digital temperature monitoring system with alarms. Liquid painting process if not monitored properly can dry to fast in the summer or not dry fast enough in the winter. If painted in high humidity the paint will not adhere to the product and will flake or fall off in time. Some liquid paints can take 24 hrs to dry to the touch. If the weather is bad this can make an adverse affect on the coating.
Do I have to wait on the weather?
Again with companies that use liquid paint are reliant on the weather conditions heat, cold, humidity and other variables. Powder coat is climate controlled in an oven for its cure process.
Can I paint over or retreat powder coated metal?
If you have an existing project that needs updated or refinished it is possible to paint over anything that was liquid painted or powder coated with proper pre-treatment. As a matter of fact, the powder coat finish makes an effective primer to be painted over as you do your maintenance and upkeep on your products.
High-Quality Powder Coating For You
The powder coating team at Artistic Iron Works in Las Vegas, looks forward to helping you choose or create high quality iron products with fantastic-looking, long-wearing finishes. Come by our Las Vegas showroom to see and feel samples of our powder coating options.