You know they're convenient, but are there other reasons to install high-quality, beautifully crafted wrought iron driveway gates from Artistic Iron Works? Did you know that in 2019, there were over 10,000 burglaries reported to the Las Vegas Metropolitan Police Department?
Security is just one of the 3 benefits of installing a driveway gate that you may want to consider.
Protect Your Property
Prevent Children & Pets From Running Into The Street
Boost Your Home's Curb Appeal
1. Strong Metal Gates Keep Your Home Safer
You may associate a driveway gate with only expensive gated communities and luxury homes. Many HOAs and apartment complexes use automated barriers to prevent unauthorized people from entering the neighborhood.
Burglary affects people of all socioeconomic classes, so a wrought iron driveway gate is a great addition to your home security system. You can also deter trespassers, nosy neighbors, and annoying salespeople who don't respect "no soliciting" signs.
2. Outdoor Protection For Children & Pets
If you have kids or pets, a driveway gate can stop them from running out into the street. It also prevents random people's cars from entering and exiting your front yard at unsafe speeds while your children are playing outside.
Some of our intricately designed security gates have minimal gaps to prevent tiny dogs and cats from weaseling their way out.
3. Custom Gates Boost Curb Appeal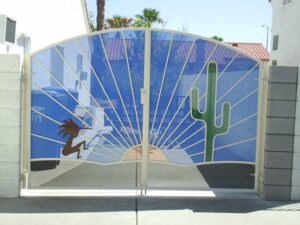 If you ever want to sell your home, an exquisitely crafted driveway gate from Artistic Iron Works can attract potential buyers and possibly even increase your property value by up to 5%. Set your home apart from other properties on the market by prioritizing security and style simultaneously.
Our products come in a wide variety of colors and textures, and we can even custom design your gate using high-tech plasma cutting technology and powder coating techniques.
Convenient Rolling Gates & Automated Controls
Our automatic gates are very convenient on rainy days and for families that are constantly on the go. Just drive up to your home, press the button, and watch it open without having to step out of your car. If you're looking for something more traditional, our rolling gates are another great choice.
Shop Custom Driveway Gates In Las Vegas
Artistic Iron Works makes artisan quality wrought iron gates, security doors, and fences that can keep your Las Vegas home safe for many years to come. With our wide array of beautiful options, you don't have to choose between safety and style. Stop by our showroom or contact us to learn more about our driveway gate styles and options, or to place your order today.